{
}
Dear Professionals,
The second half of the year is already ongoing. This is to present two new proposals to get trained for ILEC, and to remind you that training courses for Business English Certificate, IELTS and TOEFL and General English are available on demand.
Legal translations are also provided, including certified translations (with authentication by CTPCBA).
The ILEC course (INTERNATIONAL LEGAL ENGLISH CERTIFICATE) is about to begin. The exam could be described as 'the First Certificate for the legal profession'. It is structured around the four skills of the language traditionally assessed by Cambridge English, but with a deep focus on law-related content. That is the reason why the level of English of participants should be post intermediate or advanced.
The course can be taken from the beginning till the end. This way, once you finish, you should be prepared to sit for the International Legal English Test (http://www.cambridgeenglish.org/exams/legal/). Sitting for the exam is optional, so attendants may as well take this course to learn the vocabulary of International Private Law. Alternatively, those who only develop an interest for specific areas, there follows a list of the yearly schedule.
And…it's time to speed up, so this should be the ideal period during the year, to get ready to sit for the test in May 2016. The ILEC test will only be available all throughout this and next year. So, jump at the opportunity!
DATES: Mondays, from 8.30 to 10.30 am Fridays, Fridays: 6 pm to 8 pm
Venue: Uruguay 950. Tribunales. City of Buenos Aires.
Coursebook: International Legal English and Absolute Legal English.
Course Content:
- The practice of law
- Company Law
- Law of Contracts
- Employment Law
- Sale of Goods
- Real Property
- Intellectual Property
- Negotiable Instruments
- Secured Transactions
- Debtor Creditor
- Competition Law
- Translational Law
Starting month: September 2015, until mid December. Course is scheduled to resume in February 2016, until April 2016, thus completing 60 hours of study
Instructor: Cecilia Irrazábal and members of team. Certified Legal Translator. ILEC presenter and well experienced in training candidates for ILEC test. Fees: ARS 750 per month.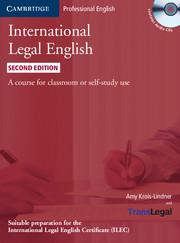 Enrollment fee (including copies and coffee breaks): ARS 250. Minimum number of participants: 2 (two)
Do make your consultations for private lessons, DISTANCE LEARNING, BLENDED LEARNING OPTIONS
(11) 15 4185 4360 – Send an e-mail to irrazabalcecilia@gmail.com to get a registration form, or to get additional information, such an attachment with full course contents. Payment options: bank transfer or deposit, cash or checks.
SOME COMMENTS
Tomás Affranchino Vivanco
Senior Contract Analyst en Accenture
Tuve el placer de asistir al curso de ILEC dictado por Cecilia durante el año 2012, en el cual demostró un extenso conocimiento del idioma y sistema jurídico anglosajón. Cecilia es una excelente profesional con una gran vocación para enseñar y generar un gran clima para aprender. A su vez, debo destacar su compromiso, buen humor y buena predisposición.
Federico Gamiz
Manager - Legal Department at PricewaterhouseCoopers
Tuve el placer de asistir al curso ILEC dictado por Cecilia durante el 2011. Sin duda una de las mejores profesoras que conocí.
Más allá de sus extensos conocimientos del idioma y sistema jurídico anglosajón, debo destacar su excelente humor, amabilidad, compromiso y buena predisposición.
Las clases eran dinámicas, prácticas y completas. Cecilia se esfuerza por generar un excelente clima para aprender.
INTERNATIONAL RECOGNITION & VIDEO
• American University, Washington College of Law
• Fordham University, School of Law
• Boston University, School of Law
• Linklaters
https://www.facebook.com/video.php?v=10152668058055534
Cecilia A. Irrazábal
Traductora Pública en Idioma Inglés - Docente de Inglés Jurídico
http://legalenglishupdate.obolog.com/ ar.linkedin.com/pub/cecilia-irrazabal/b/851/438/